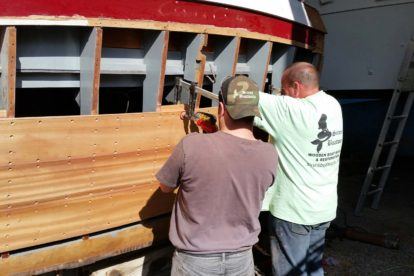 We specialize in new construction, repair and restoration of wooden power boats, inboard and outboard, up to 50′.
We build wooden boats. Our most recent new build is Skipper, a 32′ custom re-creation of a 1950's Norse.
We've repaired / restored everything from a 10′ kayak to a 42′ Elco….and everything in between – wooden mahogany runabouts, cedar strips , marine plywood construction, 5200 bottoms…..etc. Check out our 'gallery' section on this web site.
We have over 5,000 square feet of wood boat friendly on-site cold storage.
We would love to chat with you about the potential we see in your boat. We would be happy to provide you with the details and a cost estimate of a restoration that would make you a proud owner of a special boat."
Sirens Boatworks is capable of working on all of your boat's systems…..including full mechanical and electrical services.
We love wood boats!
More Information:
We are available for any questions, requests or estimates for all of your wooden boat needs.